Our fully fledged Bandas with refreshing view of the lake
Privacy is our priority, if this is what you are looking for, we have you covered. The single banda has one double bed, very comfortable with refreshing views of Lake Kigambira
Are you 2 friends or family that want to share a room The twin banda is best for you with 2 single beds, comfortable and spacious enough to accommodate both of you.
We cherish Family. The family banda accommodates 2 adults & 2 children. Very comfortable, cosy and spacious with 2 separate rooms, one double for the adults and a twin for the children. You will also get to enjoy the fresh breeze as you relax on the balcony watching the game graze.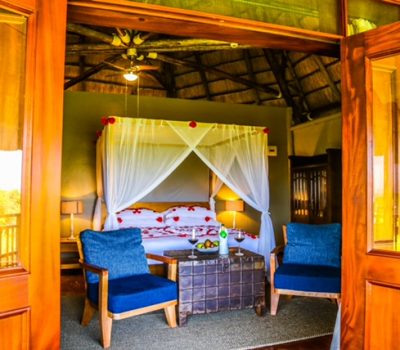 We are a perfect destination for your honeymoon. We will customize your stay and make you feel loved right from the moment you check in to the time you will check out. The banda is suitable for newlyweds, we will offer a bottle of wine and a fruit basket and room service on request. You will be able to relax on your private balcony as you enjoy a glass of wine as you enjoy the amazing views of the sunset.